Today's story revolves around a grandpa who lost the love of his life, his wife, Anna, in the summer of 2021.
Since then, his life hasn't been the same, but something unexpected happened a year later that made him feel better.
The man called his wife "Anny," and losing her changed his life.
Losing one's partner leaves a person with a void that no one else can fill, but luckily, this grandfather found someone who brought joy to his life.
Ashley Lemieux saw her grandfather's life change after her grandmother passed away.
She loved him dearly and resonated with his pain of losing a loved one because she had been through something similar.
In 2020, Lemieux and her husband were all set to welcome their baby boy, Jayce.
They couldn't wait to hold their little one in their arms, unaware that their baby boy wouldn't survive.
In a heartbreaking Instagram post, Lemieux explained her feelings after losing Jayce. She recalled hearing a lullaby every time a baby was born in the hospital. The lullaby gave her hope, but when it played after Jayce's birth, she felt heartbroken because her baby was no more. She admitted:
"I miss him so much it physically hurts."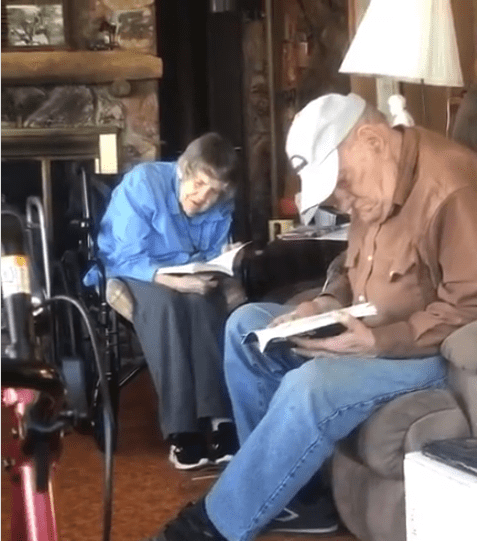 Anna and her husband | Source: instagram.com/ashleyklemieux
The Baby Girl
Losing her baby was one of the worst experiences of her life, but fate soon introduced a new person in her life who lessened her pain. The devastated mother gave birth to a baby girl and named her "Annie Rae."
Watching her beloved grandfather hold her daughter for the first time was an emotional moment for her.
What made the little girl's birth even more special was that her name was the same as Lemieux's grandmother. When her grandfather came from Wisconsin to meet Annie, Lemieux recorded the precious moment when he held the baby for the first time.
The Grandpa Held the Little Girl
In the heartwarming video, the grandfather holds Annie in his arms, filled with adoration for the little girl. Then he caresses her cheek and smiles at the camera. He even holds Annie's little hand, smiling from ear to ear. Lemieux said:
"He loved my grandma so much, and he's not usually an emotional person, but them sharing a part of her name meant a lot to him."
"Just like Anny," Lemieux captioned the video she shared on Instagram. Watching her beloved grandfather hold her daughter for the first time was an emotional moment for her.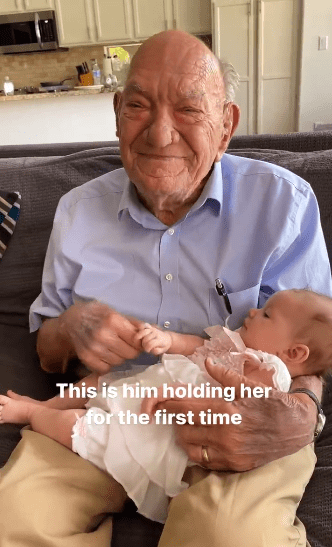 Annie Rae and her great-grandfather | Source: instagram.com/ashleyklemieux
Lemieux even shared some funny moments with her grandfather on her Instagram profile, where she asked him what she did for a living. Since he didn't know much about Instagram influencers, he said she "talked a lot" and told people about things other people sent her.
The Online Response
The adorable bond Lemieux shared with her grandfather made netizens feel emotional and they posted comments under her Instagram video. Here are some of them:
"This makes my heart so happy. He's so happy. I love nothing more than grandparents meeting their great-grandkids. Something so special about the bond that they have. The way she smiles up at him."
― (@jescolsonhil) July 31, 2022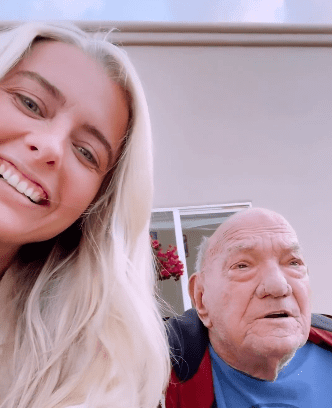 Ashley Lemieux with her grandfather | Source: instagram.com/ashleyklemieux
"I'm so emotional going through your videos. This is beyond precious."
― (@cocoteela) August 13, 2022
"Such a special moment. Love that she is named after her great-grandma."
― (@amanaram) July 31, 2022
We hope little Annie grows up and bonds with her great-grandfather, who loves her dearly. We wish the little one all the best and pray that she fills her family's life with unlimited joy.